~ Sporadic. ~
It depends on my mood, where I'm going, who I'm hanging out with and how much time I have to get ready. Whether I like to admit it or not, I shift my style according to current trends a lot of the time. Like I never would have imagined wearing something with red roses all over it, but I just bought a dress the other day like that, so… yeah.
Your position at AKIRA…
Digital Marketing Manager. I manage SEO, creative content strategy, email marketing, email copy, social influencers/bloggers, affiliates, events/partnerships, and I also run all of our official social media accounts.
What did you study in college?
I got my first Bachelor's degree in Sociology. My second Bachelor's degree was in Advertising/Marketing. Go Salukis!
Where do you draw your style inspo from?
My work bestie Mackenzie Cassidy and the Kardashian/Jenner squad.
If you could steal anyone's wardrobe whose would it be?
Kim Kardashian. Don't judge me.
Your AKIRA style picks…
Separate Me Denim Bodycon Dress
Perplex Pointed Toe Heeled Mule
Mask Off Jumpsuit
You just got two tickets to anywhere in the world, where are you going?
Norway. Land of my people.
Next, I'd go to the French Riviera. I'd rent a vintage Mercedes to drive along the coast and my diet would only consist of wine and charcuterie boards.
What's #1 on your bucket list?
To go skydiving. I'm going this summer with my brother and sister (already bought our tickets!), so I'll have to come up with another one soon, won't I?
What's your fav spot or thing to do in Chicago?
I like to day drink on patios/rooftops with my franz. I also love taking my dog (Paxton) to Humboldt Park to hang out and grill and stuff. Paxton enjoys rolling in goose poop, I enjoy tossing him in the lake afterwards.
What's playing at your desk right now?
One makeup/beauty essential you never leave the house without…
Under eye concealer because I have never understood the concept of a bedtime.
What three things would you take on a desert island?
My dog. My bed. A solar powered music player loaded with every song known to mankind.
If Hollywood made a movie about you, which actor would play you?
Lucille Ball would be dope.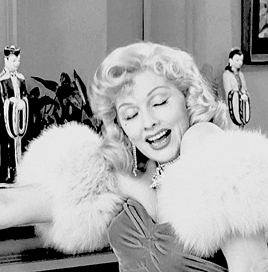 What's the craziest thing you've ever done?
I don't know if this is the craziest, but once upon a time I shaved the side of my head. Another time, I also cut myself a mohawk. I've always done weird sh** with my hair because, you know, it grows back.
Name one thing that should be removed from the face of the earth…
Compulsive liars.
Never eat pizza again or never drink coffee again?
If you knew the world was ending in 2017, what would you do differently?
I would spend more time with my family, and probably quit my job and travel.
What's your #1 turnoff?
Bad smells. Like brush your teeth and spray some cologne.
You're on death row, what would your last meal be?
A cheeseburger, mac and cheese, goat cheese bruschetta and a 12-case of ice cold beer.
What's one goal you've set for yourself this year?
To take care of myself and treat myself often – facials, manicures, vacations, etc. But, that's not just for this year. lol
What's one thing you're going to do this year that you've never done before?
Skydive. Read more books. Find a boyfriend?
Where do you (ideally) see yourself in five years?
Driving a vintage Mercedes along the French Riviera.

If you could master one skill right now that you don't have, what would it be?
To sing like Whitney Houston.
Follow Berke on Instagram: @saraberke