~ Cholo-Goth. ~
Your position at AKIRA…
 Sample Coordinator.
AKIRA style picks…
Now or Never Lace and Mesh Detail Bodysuit
Sleek Moves Lace Up Detail Leggings
Where do you draw your style inspo from?
Lady Gaga.
If you could steal anyone's wardrobe whose would it be?
My friend, Barbie (BB). @barbiedollstyles
One wardrobe must-have…
 A leather jacket.
What is one beauty essential you never leave the house without?
Eyeliner.
Never eat pizza again or never drink coffee again?
I can't live without coffee. 
What's your fav spot in Chicago?
Exit.
What were you like in high school?
I was a bad kid. Let's just say I was the one at my high school with the most tattoos.
What's one thing that should be removed from the face of the earth?​
Kitten heels.
You're on death row, what would your last meal be?
Popeyes spicy, five-piece chicken tenders (Mardi Gras Mustard, Blackened Ranch and BBQ sauce) with a side of fries, mashed potatoes and mac & cheese. LOTS OF HOT SAUCE!!!!!!!
You just got two tickets to anywhere in the world, where are you going?
Paris and my mother-land (Mexico).
Tell us one goal you've set for yourself this year…
A goal I set for myself this year was going out alone. Sounds lonely, but I'd rather be alone than be around bad company.
What three things would you take on a desert island?
Whiskey, Diplo and a box of Urban Decay 24/7 liquid eyeliner.
Your #1 turnoff…
A bad attitude. *eye rolls*
If Hollywood made a movie about you, which actor would play you?
Krysten Ritter.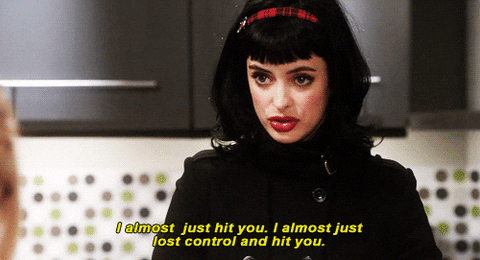 What's playing at your desk right now?
Amber Rose's podcast, Loveline.

Follow Jess on Instagram: @purplefilth